1800's
History > Centuries
Pollokshaws in the 1800's
A potted history of what went on in Pollokshaws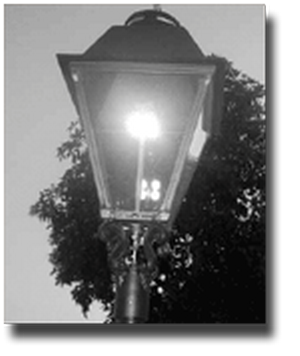 A gas supply was introduced in 1836 when a company was set up in the town, with pipes laid only to houses at first. Then in 1846, by arrangement with the Town Council, lampposts were set up and the streets and lit for the first time. The Gas Company was taken over by Glasgow Corporation in 1891. But the Pollokshaws producing plant, in the area where McDougal Street was laid out, closed down a few years later and the supply taken from the city's south side gasworks near Eglinton Toll. A lamplighters' office was established in the former police office Shawhill Road.
Pollokshaws or Pollockshaws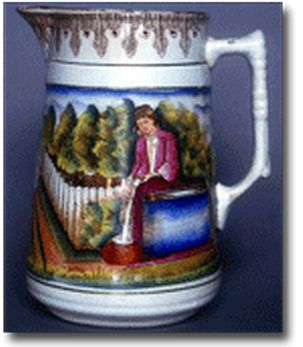 I

n 1855 the Victoria Pottery began production in Cogan Street , Pollokshaws. On the pottery mark on the wares produced, probably in error a letter 'c' was inserted in the name, Pollokshaws, the wares being embossed as 'Pollockshaws Pottery'. The business founded by David Lockhart and Charles Arthur flourished, producing white earthenware goods of quality, mainly dinner, toilet and household articles, the patterns thereon covering many subjects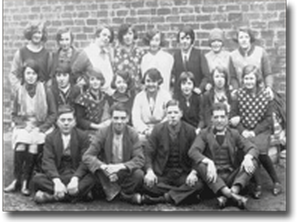 popular at the time. Also produced were commemorative, classical and eastern items and a distinctive and charming series of scenes with children and animals. Later, 'Staffordshire' type mantelpiece ornaments and 'china dogs' (wally dugs in the local patois) were produced as well as a wide variety of tea-wares. The pottery closed in 1954. Image: Workers c1930.
Pollokshaws List of Provosts 1812 - 1912
1 - 1812/15, Sir John Maxwell of Pollok
2 - 1815/22, John Montieth of Auldfield Spinning & Weaving Mill
3 - 1822/26, Thomas Baird of Greenbank House & Greenbank Dye Works
4 - 1826/28, John Ralston, weaver, election later declared null & void
5 - 1828/30, Thomas Baird (re-elected)
6 - 1830/32, Malcolm Hunter, successor of the above Montieth at Auldfield
7 - 1832/38, Thomas Baird
8 - 1838/44, Thomas Corbett, doctor
9 - 1844/46, William Hector, writer (of the Judicial Records of Renfrewshire)
10 - 1846/48, John Willox, of Wheatholm, owner of quarries at Wells Walls, Giffnock
11 - 1848/52 - James Tassie (of the well known family), agent of the Western Bank
12 - 1852/56 - Thomas Corbett, doctor
13 - 1856/58 - Duncan Watson, provision merchant
14 - 1858/60 - John Litster, doctor
15 - 1860/62 - Archibald McIntyre, coal merchant
16 - 1862/64 - William Henderson, baker
17 - 1864/66 - William Austin, tenant of meal mill at Shawbridge
18 - 1866/71 - George McKay, pawnbroker
19 - 1871/76 - Nicol Cameron, house factor & valuator
20 - 1876/80 - George McKay
21 - 1880/82 - David Livingston, joiner
22 - 1882/92 - Andrew Ritchie, doctor (longest continuous service)
23 - 1892/97 - David Wright Leckie, of the firm Thom & Cameron of Glasgow
24 - 1897/1900 - Donald McFarlane of Wellmeadow Laundry
25 - 1900/03 - David Wright Leckie
26 - 1903/05 - Robert Wilson of John Horn Ltd. printers
27 - 1905/11 - James McDougall, tailor & clothier
28 - 1911/12 - Robert Stirling Brown of Brown & Adam Ltd., Riverbank Works
Trade List of Shops & Businesses in 1873
(From Slaters Directory of Scotland )
Coal Merchants
(The lime was used in the manufacture of mortat)
Bleachers & finishers of cotton
Cotton Manufacturers & spinners
Calico Printer (of patterns of white colour)
In 1958 there were 128 shops and 88 industrial concerns large and small.
Of the 160 shops listed in 1873 the majority would be single person businesses, and would scarcely merit the pretentious designation in many cases given to them in the directory. For example sweetie shops were known as confectioners. Also, there is no mention of three types of shops common in busier shopping districts today; fishmongers, fruiterers and dairies.
Fish probably came from the fish market in Glasgow , brought by itinerant merchants and sold directly off their carts. Vegetables would be grown by people with plots of ground or, like milk, brought in on carts from one of the farms in the district. Fresh fruit was strictly seasonal, with only locally grown varieties available at the end of summer and in the autumn. Preserving by making jam, or keeping it in syrup in sealed containers is the only way fruit could be enjoyed at other times. Despite milk being available locally, a cart brought supplies all the way from Dunlop on three days a week. Milk sellers dispensed it with pint and half pint scoops filled from a churn and poured into customers jug or milk can.
In the town, in addition to the Royal George there was another hotel, The Maxwell Arms. Around twenty-five years before the 1873 list (above) was recorded, there were four inns; one was the Old Swan Inn. A tenement was built on the site in 1901 and a pub of that name was incorporated in it, which lasted until the 1990s when it was changed to the Stoat and Ferret. (Now the 1901). In addition to being the centre of a small coal mining area, Pollokshaws had 31 farms in its neighbourhood.
In 1885 a weekly newspaper, The Pollokshaws News, came into being, published by Andrew McCallum whose book, POLLOKSHAWS - Village and Burgh 1600 to 1912, was published in Paisley by Alexander Gardner in 1925. The paper was popular, dealing with local news and topics, and continued for seventy years until decreasing circulation, due mainly to depopulation, led to its disappearance.
Even before children's education became mandatory in 1873 there was a considerable demand for books. In 1780 a subscription book club was started up in the town, the members of which were mainly ordinary workers. In 1818 there were two small libraries from which books were issued for a small charge. By 1844 a public library had been set up in the Town House which, in time, had 6000 volumes on its shelves. In 1882 it moved to a custom-built bungalow type building provided under the will of Robert Campbell.
Ownership of the Campbell Library was transferred to Glasgow Corporation 1915, when it became a municipal library. Then in 1968, after a brief period in temporary premises in the Burgh Hall, it was moved into the present building, the entrance to which is almost opposite the site of the Campbell Library. The current building cost £98000, and, as successor to the Campbell Library, it is the oldest district library in the city after the Stirling Library.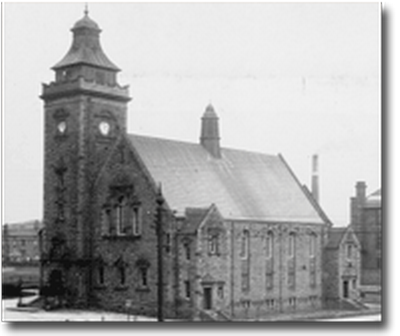 The year 1898 brought another instance of the generosity of the Lairds of Pollok to the people of Pollokshaws. At a cost to himself of £20,000, Sir John Maxwell had the Burgh Halls built and gifted to the town, providing a commodious community meeting place which has served many and varied purposes. The halls were renovated in 1968 at a cost of £60,000 and re-opened in February 1969.